Just one week after we picked up our new Casita, we were driving to Bandera, Texas (Cowboy Capital of the World) to attend the 2019 Texas Bluebonnet Casita Rally. We arrived at the Skyline Ranch RV Park a short time before a spring thunderstorm arrived. Frank was able to get the electricity and water hooked up, the Casita leveled and scissor jacks down for stability just as it began to rain hard. All the studying of the steps to take upon arrival really paid off, as we had to set up in a big hurry. But soon the rain left, the skies cleared, and we had beautiful weather the rest of the week.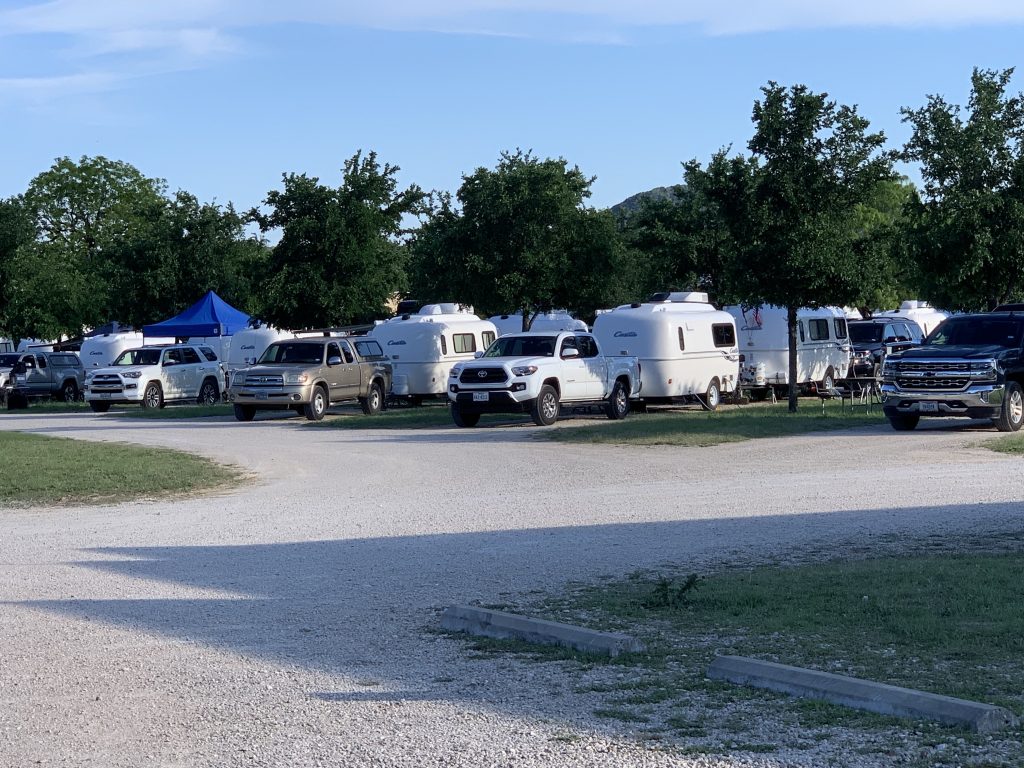 In attendance at the Rally were around 150 fiberglass trailers, the vast majority were Casitas. Everyone at the Rally was friendly, knowledgeable about all things Casita, and willing to help the newbies like us. Here is another view of the RV Park.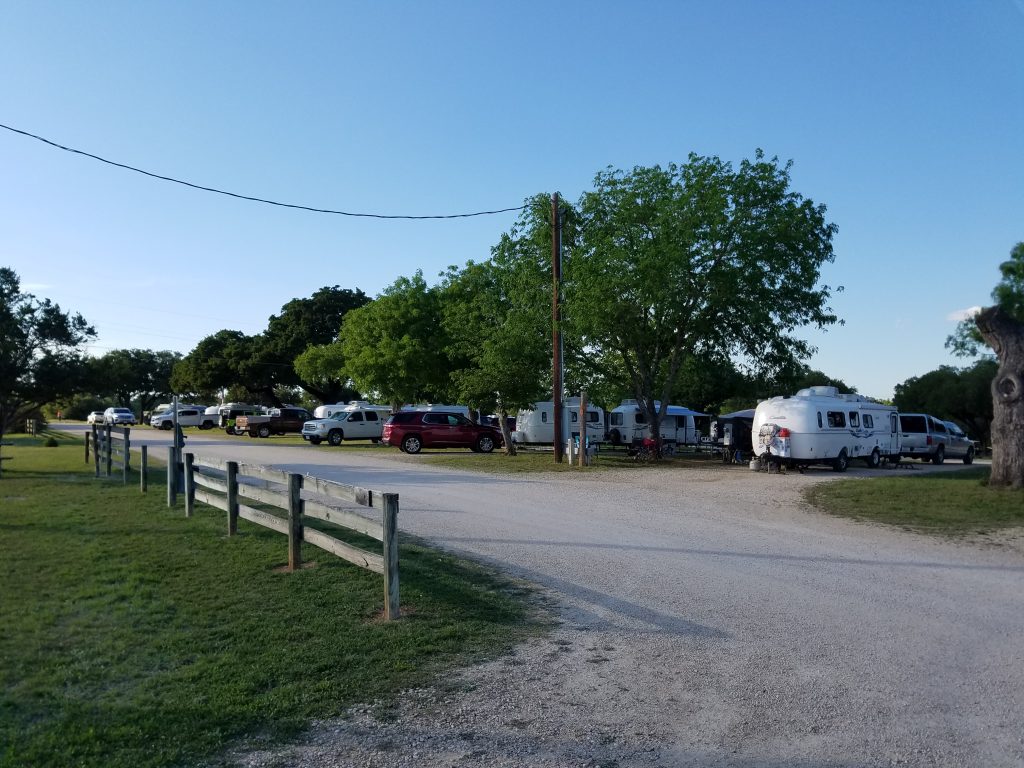 We had done a lot of research in the 2 1/2 months waiting for delivery, and we were fairly well equipped to setup our first real campsite. We had purchased several essentials for electricity, water, and waste (gray and black water). But the single biggest and best acquisition was the purchase of our Clam Quick Set popup shelter. We instantly fell in love with this marvelous shelter. We can set it up in less than 1 minute, but it takes several more minutes to secure it.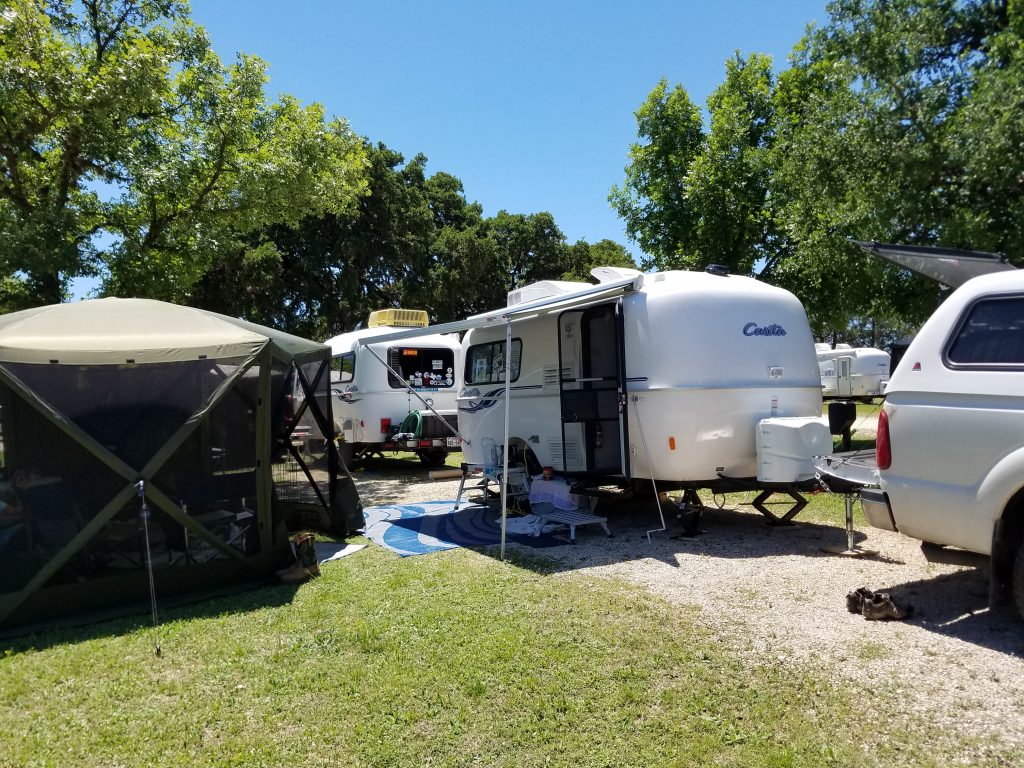 This was Mikey and Toby's first long camping experience, and they were wonderful. We were worried beforehand that they would be barking and unruly. They were pure gentlemen, walking silently, meeting lots of people, and watching numerous other dogs go by without being obnoxious.
The Rally was extremely well organized with group dinners, functions, and entertainment. We were treated to wonderful BBQ and the great Almost Patsy Cline Band! One of Debbie's favorite activities was learning how to use a Dutch Oven to cook just about anything. There is one or more of these in our future!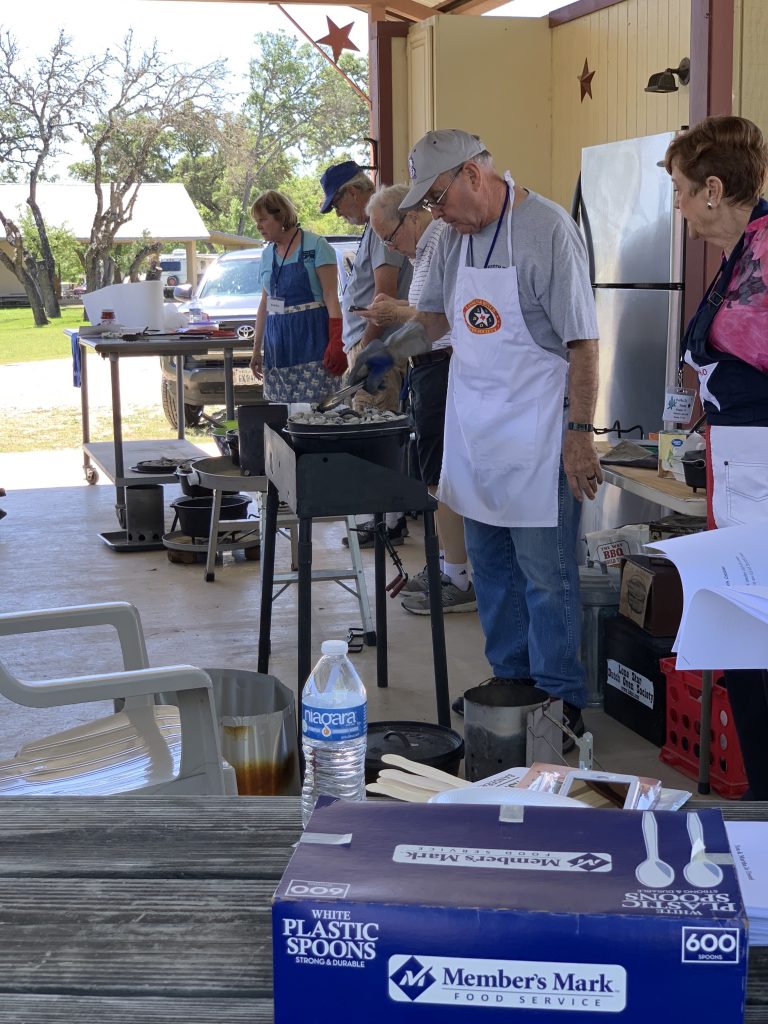 George and Sandy Childs played a large part in our decision to get a Liberty model of Casita. In our research about the Casita, we joined the Casita Forum online. Through the forum, we found this local couple who were more than willing to let us come over to their house, and spend a few hours getting all our Casita and camping questions answered. They never steered us wrong, and their advice was exactly what we needed. Just a couple of days after our visit, we took the trip to Rice, Texas to order our camper. Here's George as one of the Cast Iron Cooking teachers.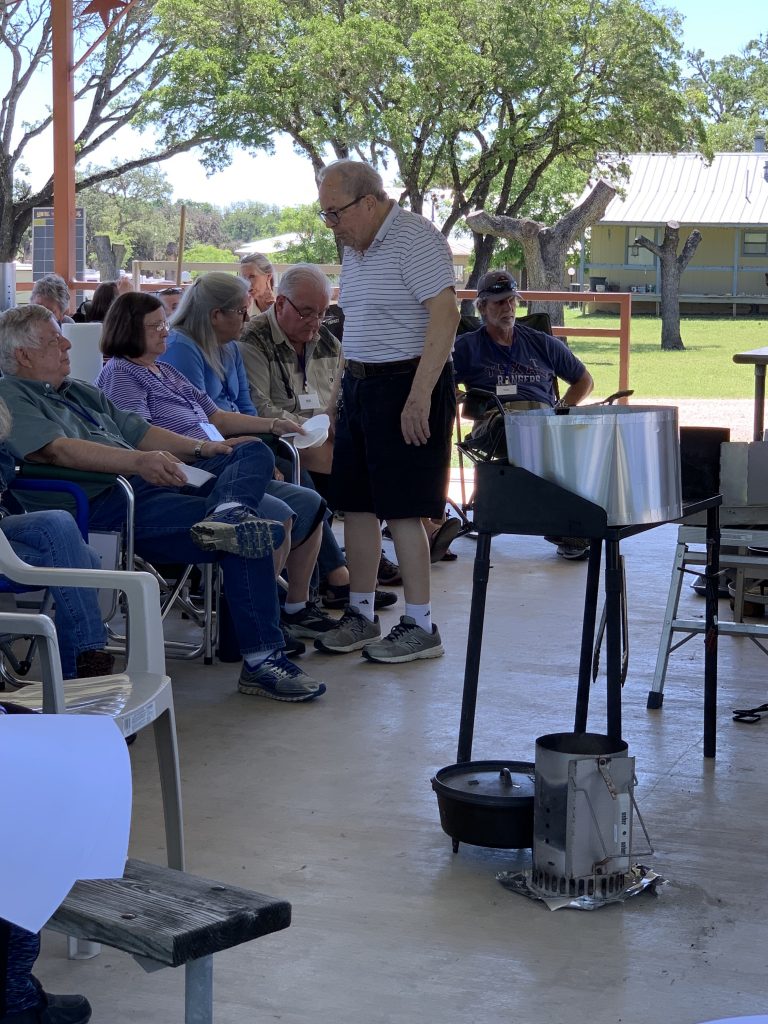 The facilities were first class, the organization was fantastic, and we give our hearty thanks to all the staff and volunteers of this Rally. We plan to attend again, and perhaps join in the volunteer force.
One of the highlights of the week was the Egg Parade. The Casitas stayed in place, and everyone walked around to the other Casitas to see how folks had modified their rigs. One guy told me we were the "Rock Stars" of this year's egg parade because we had the newest Casita on site, being only one week old, and having the new standard equipment installed, especially the new gray interior and vinyl flooring. One of my favorite mods that we saw was how to secure an awning to hold up in even strong winds. Needless to say, I followed his instructions to a "tee" and we now have a secure awning.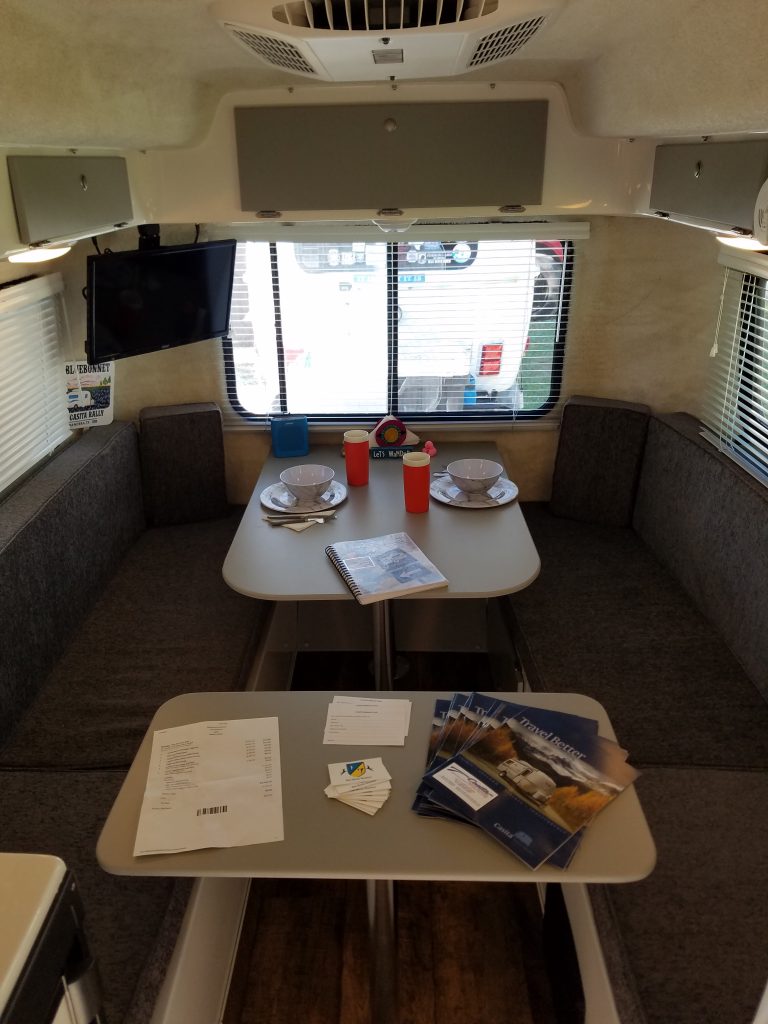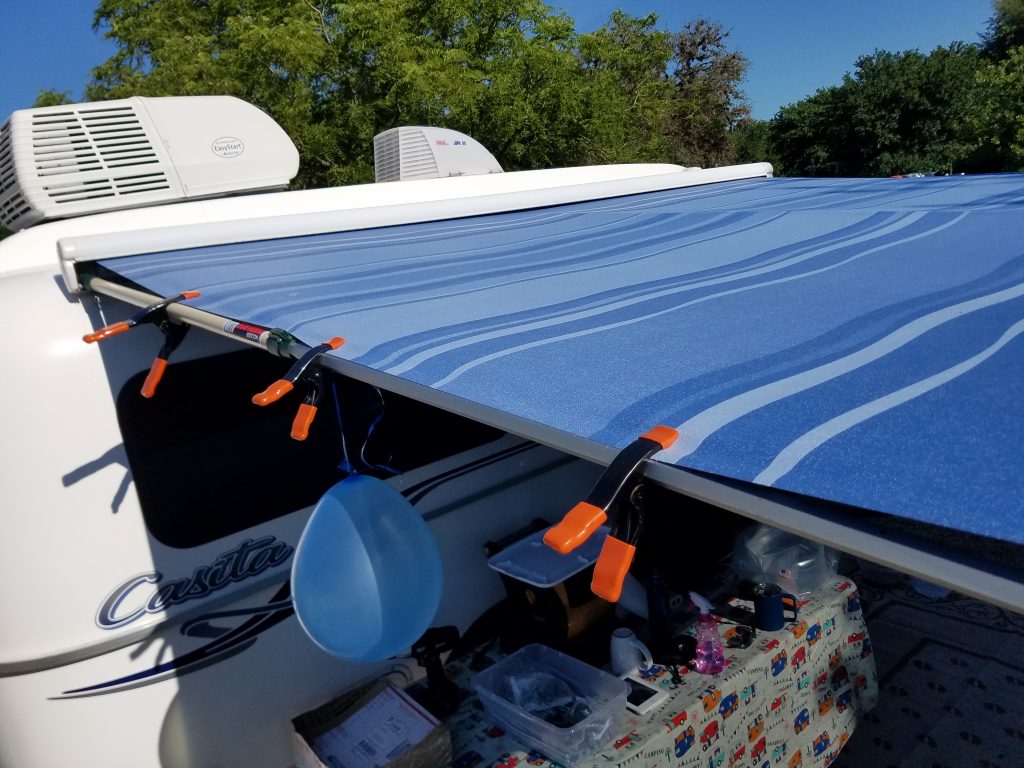 We will be back!!!