We set out for our favorite local campground, Live Oak Ridge Park at Belton Lake, Texas for a few nice days of relaxation in late July, 2020. We had picked a lovely site (39), well shaded with a view of the park, near the washroom, and with an excellent southern sky access for satellite TV.
This picture was taken after the previous two-day fiasco… Our first hint should have been the horse trailer converted into camper that drove three times around the park looking for his site. Sure enough, he finally pulls in right next to us (in the same space where you see the big fifth wheel camper in the picture above.) Being the friendly, outgoing type, I walk over after he gets set up and show some interest in his unique camper. In return, I got a scowl and a low grunt. He proceeded to pull two big pit bull dogs out of the camper, and hooks them up to a cable he had strung between two trees. One was obviously quite old, and the other young, loud, and aggressive. Both dogs could reach the driver's door of my truck. I was quite thankful that I did not need to go anywhere, or I would be crawling into the driver's seat from the passenger's side.

Some time later, his wife shows up in a separate car, and they commence to fighting loudly from inside the trailer. She leaves. He leaves. He returns later. She doesn't. He stayed overnight, and left an hour after check out time, without picking up the mess he left behind.

Soon thereafter, this huge RV pulls in with six kids. The parents greeted us and apologized in advance for six noisy kids. We told them we'd rather hear the happy noise of six kids than the angry barking of two pit bulls and their owners.

One of the "regulars" at Live Oak Ridge has a pack of chihuahuas, and the unique rig you see below….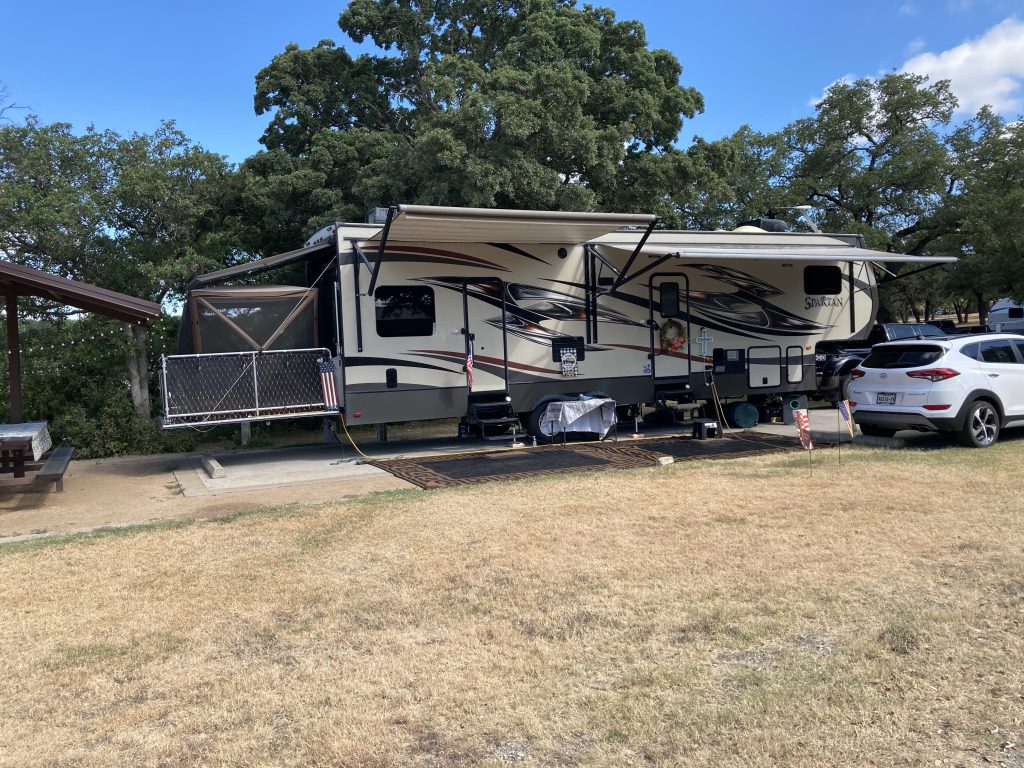 The family next to us turned out to be a wonderful family, and we enjoyed seeing them playing with their kids.
This was also the trip where our factory-issued television died.
Ode to the NAXA television – I'm glad you're dead. We were so excited the day we ordered our Casita. We had looked at them years earlier, just waiting for the day I would retire and we could start traveling. We definitely wanted a television, and ordered the TV with cable-ready hookups. There are many things that are not learned online. That knowledge only can only be acquired in the School of Hard Knocks. The NAXA TV that comes with the Casita is one of those lessons. Oh, the hours I've spent in agonizing frustration trying to get this TV to work. We tried two antennas and a satellite system to no avail. The picture, when we could get one, was fuzzy. The sound was so quiet, we had to use an external powered speaker. I have honestly spent more time trying to get this TV to work, than in actually watching it. But now, finally, the NAXA died in its sleep. When I plugged it in for the last time, the screen appeared to have shorted out with a web of lines going everywhere.But with this death comes new life. We have replaced the NAXA with a 24″ smart TV. I plugged it in, hooked it up, and IMMEDIATELY had 1080p HD TV!!!! WOW! The moral to this story: DO NOT BUY the TV from Casita. Get the cable-ready connection, and buy a decent TV elsewhere.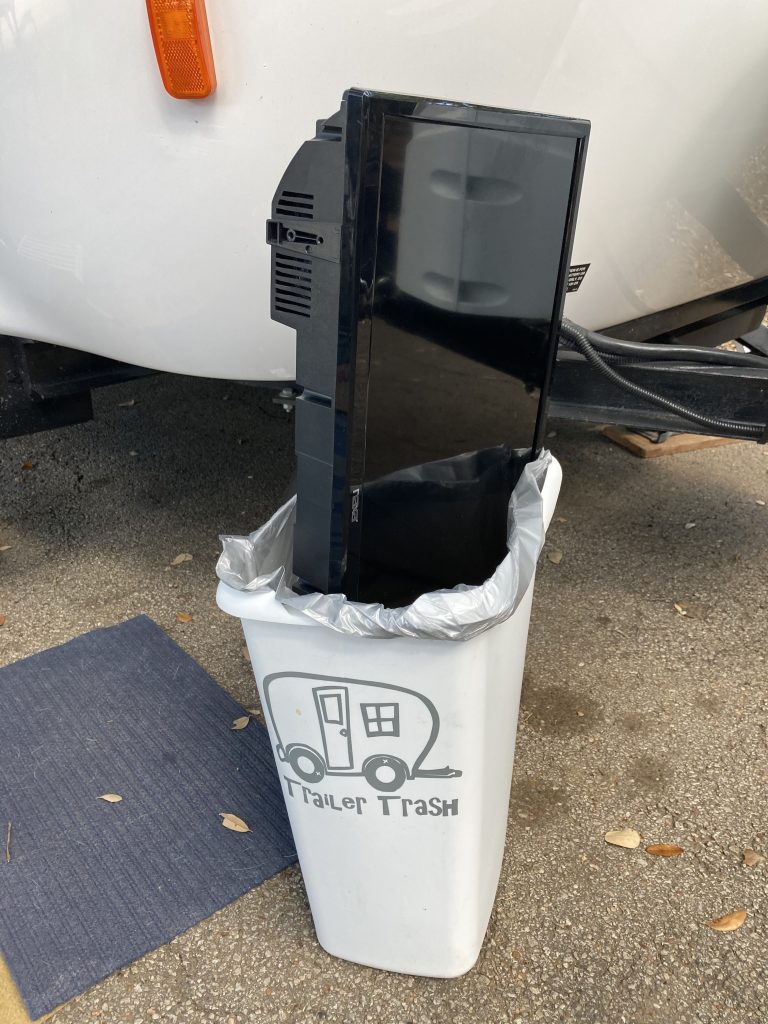 But I have been going on far too long about human concerns. This is a Two Terrier blog. and they had quite a time on this trip as well. The squirrels were very active, and in full view of our campsite. Here they are on full squirrel alert.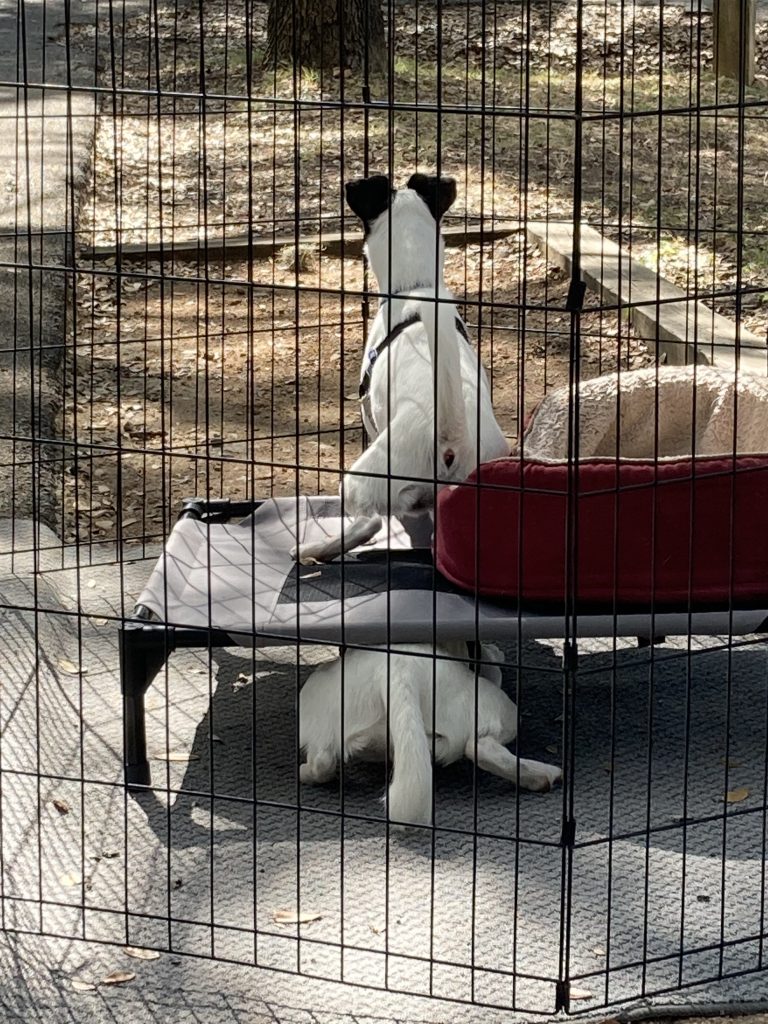 Last, but not least, here we are as Happy Campers!